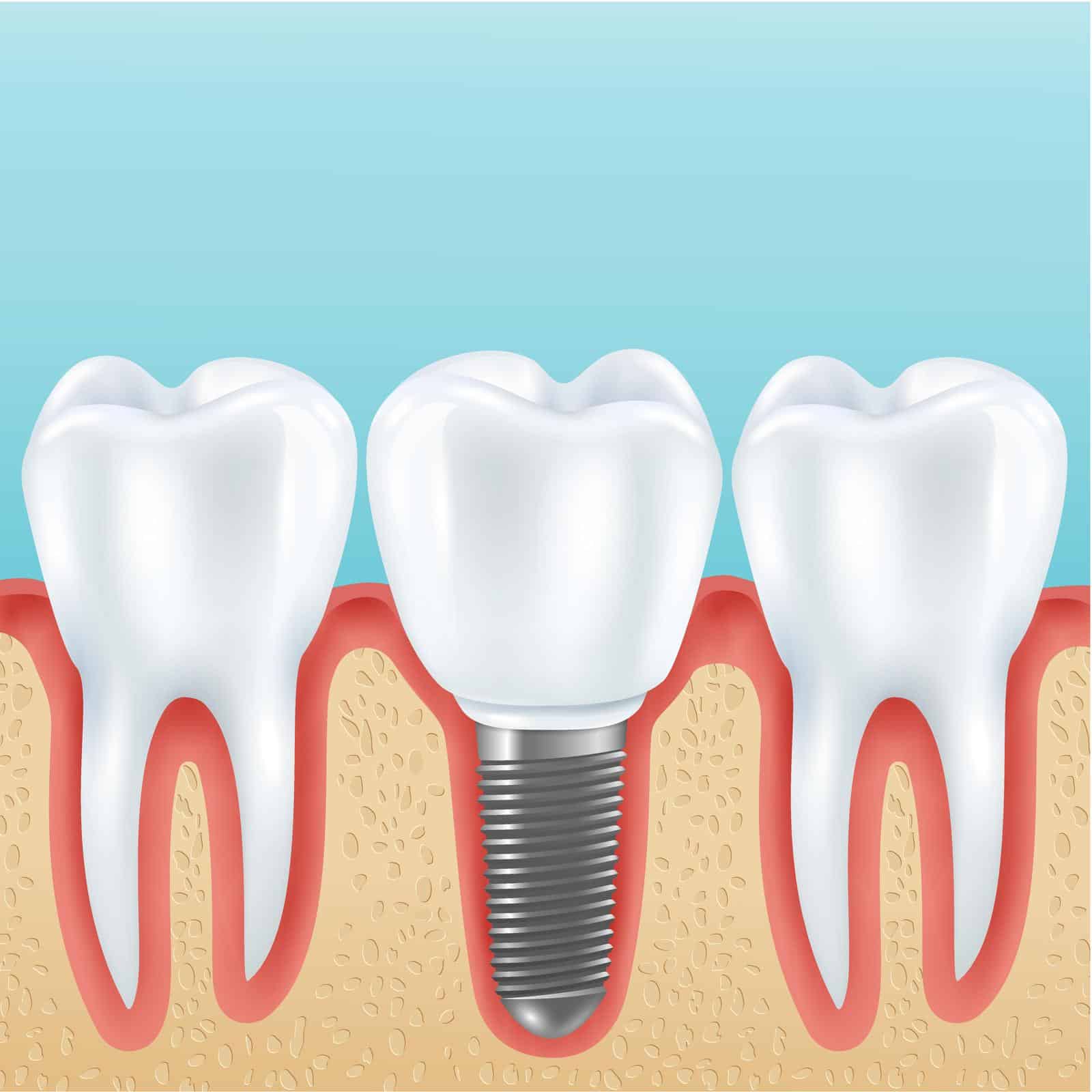 What Exactly Are Dental Implants and Am I Suitable For Them?
Do you also wonder why many people today are opting for Dental Implants in Preston, Lancashire? Well, having missing teeth can trigger self-consciousness, especially when the gap is obvious. And it can also make normal activities such as eating and talking very difficult. 
In the bid to help the situation, most people get dentures, partial dentures or bridges to replace their missing teeth. Although they are also good tooth replacement options, they can sometimes be inconvenient. They are tedious to clean, can get stuck in food, and can fall off while eating.
If you are sick of living with missing teeth and poor missing teeth options, dental implants are a better solution for missing teeth.
Perhaps you still have some raging questions in your heart concerning dental implants, below are answers to the most frequently asked questions about dental implants that will help shape your decision.
Why Do So Many People Prefer Dental Implants?
When we talk about replacement options for missing teeth, dental implants are the most natural-feeling and natural-looking. Unlike other tooth replacement options, dental implants don't click or slip when you talk, eat, or laugh. In addition to that, dental implants keep your jawbone healthy and so help you maintain a good facial structure. 

What Exactly Is Dental Implant Surgery?
Dental implant surgery is a procedure that replaces a person's missing teeth with dentures or permanent crowns while dental implants are prosthesis used in replacing missing teeth. During the procedure, the prosthesis is attached to the jawbone and allowed to fuse with it. 
Upon fusion of the jawbones and the dental implants, abutment and crown are then added. This makes the dental contain three parts which are dental implants, abutments, and artificial teeth. Only qualified dentists are allowed to handle this kind of surgery. This procedure is often placed under cosmetic dentistry. You can learn more about our implant dentist and oral surgeon, Dr. Jonathan Kennair.
What Are The Types Of Dental Implants?
There are different categories of dental implants which are root-form implants, plate form implants, and subperiosteal implants. The material and the procedure to be used in affixing the implant is the major factor that makes them different. 
Root form implant is the most widely used of all three types of implants. In this procedure, a titanium screw is implanted into the jawbone by the surgeon. The permanent tooth replacement is then attached to the implanted titanium screw. In a situation where the jawbone is not hard enough to clasp a titanium screw, a plate is then placed over the jawbone for the false tooth implantation.
Who Is A Good Candidate For Dental Implants?
Anyone who is missing a single tooth, multiple teeth, or all teeth, are prospects for dental implants.
What Are The Advantages Of Dental Implants?
Humans have 2 sets of teeth (baby teeth and permanent teeth). Dental implants can be the third set of fixed teeth when a permanent tooth or multiple teeth are lost due to dental decay, accident, or gum infection. It can last a lifetime, improve the ability to eat, and are not open to decay since they are made up of titanium. 
Dental implants look and perform just like natural teeth. They don't slip and don't require any adhesives to keep them in place. It prevents loss of bone in the area where the teeth are missing and also helps prevent damage to surrounding healthy teeth.
If you are looking for a way to preserve your facial features and restore your natural smile, dental implants might just be the best option for you. 
Are There Any Disadvantages With Dental Implants?
Like any other minor oral surgical technique, there is a threat of infection, inflammation, and pain, but Dr Jonathan Kennair will discuss a management plan with you to regulate the specific situation. Also, the case of infection is very rare when the surgery is performed by a competent professional dentist such as Dr Jonathan Kennair. 
Are Dental Implants Expensive?
Implants are known to be more expensive than other tooth-replacement procedures such as dentures or bridgework. And still, they have been proven to be more cost-effective on a long-term basis, as they can last many years and may never need replacement. So we can say, even though dental implants may require much more investment, considering the number of years they last without the need for replacement, they are still cost-effective.

What Is The Success Rate Of Dental Implants?
Based on individuals' oral hygiene and state of health, it varies from individual to individual. With sound health and remarkable oral hygiene, the success rate has been reported to be slightly above 90%.
Do Dental Implants Last?
Dental implants are not sensitive to organisms that cause the decay of natural teeth. However, the integrity of the gums is crucial in upholding lasting implant success. Dental implant sustainability calls for regular professional cleaning, check-up, and good home care.
Our in-house Hygiene Therapist, Jo, is always at hand to help maintain your oral health and gum care.
What If I Want "Metal-Free" Implants?
Metal-free implants do exist but are not popular for a reason. Just like other implants such as knee implants and hip implants, they are made of a metal alloy called titanium alloys. This alloy has high biocompatibility and allergies to it are rarely reported. This metal is yet to also have a proven alternative.
What Is All-On-4?
This is a trademarked treatment technique that practically involves using only 4 implants to replace all missing teeth in one jaw. The procedure is highly helpful in patients that have lost significant bones in the back area of the mouth.

Can Dentures Be Made Into Implants?
Dentures and Implants are two different entities, and one cannot be made into another. Implants are into the jawbone to serve as anchorage and support for the dentures (artificial teeth). 
Are Dental Implants Removable Like Dentures?
Dental implants are not removable like dentures because they are solidly fixed into the jawbone and enable teeth to be replaced in a way that is very close to the natural teeth.
How Do I Know If A Dentist Is Qualified to Perform Dental Implant Surgery?
Dental implant surgery is a very sensitive procedure that only a certified dentist in a reputable institution can perform. You can easily have background knowledge of a dentist's work by perusing their gallery for 'before and after' pictures of his/her dental works and then decide based on your findings and testimonies from others. You can watch Dr. Jonathan Kennair's testimonials.
How Long Does Dental Implants Surgery Last?
The real dental implant procedure doesn't take very long. They can get it done within an hour or two. The subsequent procedure to get all the false teeth properly installed can take up to 8 months in all. Throughout the entire procedure, good dental hygiene is important because any slight negligence can result in infection.
Can My Body Reject A Dental Implant?
Precisely speaking, your body cannot reject implants because they contain no living cells or genetically coded substances. The titanium alloy used in the procedure is completely biocompatible and allergies to it are very rare. A complication can occur with poor oral hygiene when the implants fail to integrate with the jawbone as a result of infection. Nevertheless, this is rare; as implants have been reported to have a success rate of 95%.

Is Dental Implant Surgery Painful?
The majority of people can easily tolerate dental implant surgery. Arising post-operative disturbances can be managed with over-the-counter anti-inflammatory drugs such as ibuprofen. Placing ice on it can also be of great help.
How Do You Care For Dental Implants?
Implants teeth will never decay, but the gum around them can become inflamed and infected in the face of poor oral hygiene. They must be cared for, the same way you take care of your natural teeth.
Therefore, regular brushing and flossing, regular dental check-ups, and professional cleaning must be a routine for your implants. Implants that are properly cared for should last a lifetime. Jo, our in-house Hygiene Therapist will be crucial to your dental implant maintenance or the future.
Am I Too Old to Have Implants?
When we talk about dental implants, age is not a factor that determines their success. The only concern in the elderly is general medical health. You can speak with our implant dentist and oral surgeon, Dr. Jonthan Kennair so that you can both discuss it and come to a reasonable conclusion. 
Whats Next?
If you feel you have more questions or want to find out if you are suitable for dental implants, simply contact our friendly team who will be able to help guide you through your dental implant journey.
You can call them on 01772 561748 or send us an email by clicking HERE.